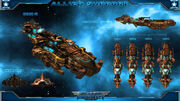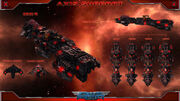 The Support ship is specialized in deploying support structures. This ship allows you to reinforce your map control by placing fortified positions.
How to Play
Edit
The job of the Support Ship is usually to set up a fallback position just behind the line of fire. It's ideal to do this as close to the action as possible, but getting too close makes it too hard to set up anything decent. If the line is pushed far enough, the turrets may be able to be moved up after.
You also may be called on to reinforce an objective that has lost its turrets, or a backdoor path to prevent enemies from traveling it.
| Structure | Armor | Shield | Speed | Radar | Critical Hit Chance |
| --- | --- | --- | --- | --- | --- |
| 1750 | 25% | 1250 | 5.5 | 45 | 10% |
| Position | Light Guns | Medium Guns | Heavy Guns |
| --- | --- | --- | --- |
| Front | 0 | 1 | 1 |
| Side | 2 | 0 | 0 |
| Aft | 1 | 0 | 0 |

Heavy turret
Type: Support/Deployable
Deploy range: 15 units
Max. number: 1
Activation time: 3 seconds
Special: Forcefield
Structure: 2000
Armor: 50%
Shield: 1000
Attack: Homing rocket every 3 seconds on nearest target, 300 damage.
Radar: 30 units
Range: 50 units
Cooldown: 300 seconds
Unique Skills
Edit
Repair outpost
Edit

Type: Support/Deployable
Deploy range: 10 units
Max. number: 1
Activation time: 6/5/3/0 seconds
Special: Repairs 12/14/18/24 structure per second in 15 unit radius
Can repair 0/1/2/3 Defense Turrets within range
Structure: 1000
Armor: 0%
Shield: 0
Radar: 5 units
Cooldown:
Stealth field generator
Edit

Type: Support/Deployable
Deploy range: 10 units
Max. number: 1
Activation time: 6/5/3/0 seconds
Special: Cloaks ships in 15/17.5/23.5/30 unit radius. Cloaks 0/1/2/3 defense turrets.
Structure: 1000
Armor: 0%
Shield: 0
Radar: 5 units
Cooldown: 75 seconds
Defense turret
Edit

Type: Support/Deployable
Deploy range: 10 units
Max. number: 3
Activation time: 6/5/3/0 seconds
Structure: 500/650/950/1400
Armor: 50%
Shield: 250/287.5/362.5/475
Attack: Homing rocket every 3 seconds on nearest target, 150/172/217/285 damage.
Radar: 30 units
Range: 50 units
Cooldown: 75 seconds
Type: Support/Deployable
Deploy range: 10 units
Max. number: 3
Activation time: 3 seconds
Special: Stealth, activation range 12/13/15/18 units, explodes after 1 second. Slow 0/5%/15%/30% for 0/1/2/3 seconds
Structure: 500
Armor: 0%
Shield: 0
Attack: 750/862/1087/1425 damage, 12/13/15/18 unit radius
Cooldown: 75 seconds
Defense Turret 3
Repair Bay 3
Mine 0/1/2/3
Forcefield/Counter Measures/Quantum Beacon/Quantum Leap/other utility skill 0
Ultimate 1 (get before leveling Mine)
Items
Speed/Hull
Fire-rate/Damage
Plasma Turrets